After a period of inactivity due to a system renewal, Epic Games reopened on November 30, 2020 requests for creator code . This referral system allows content creators to earn money if their code is used in the Fortnite Battle Royale store when buying items. Fortnite Chapter 2 is, at the time of the reopening of this system, in Season 4 of the Pass Battle . We tell you how to get a creator code in Fortnite below:
What is an Epic Games Creator Code?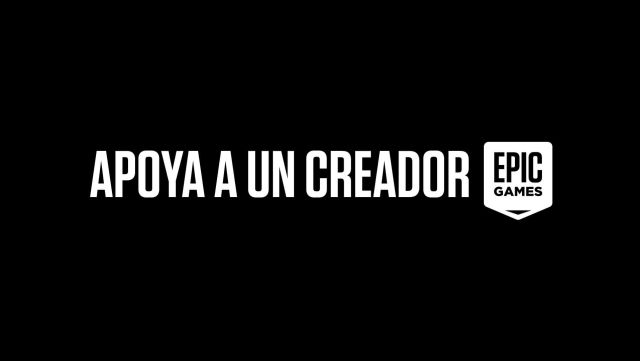 Epic Games Creator Codes are a system that allows us to earn money if people use our code when:
Buy items within Fortnite

Buy items within Rocket League

Buy games on the Epic Games Store
According to Epic Games, in Fortnite, accepted creators will get 5% of the value of purchases made in-game with their creator code. This includes V-Bucks earned, V-Bucks purchased, and most real money offers. Players can show their support for a Fortnite creator in the game by entering their creator code using the "Support a creator" button.
Para los juegos de la Epic Games Store, los creadores pueden compartir enlaces de recomendación en sus canales o promocionar su código de creador entre los seguidores para obtener crédito por las ventas de esos juegos. Cada juego tiene un reparto de ingresos distinto para las ventas atribuidas, establecido por el desarrollador, pero todos los juegos tienen un porcentaje mínimo de un 5%.
En Rocket League, los creadores aceptados obtendrán un 5% de los créditos gastados en el juego al usar su código de creador. Esto afecta los créditos de la tienda de objetos, la creación de planos y las mejoras al Rocket Pass Premium. Los jugadores pueden mostrar su apoyo a un creador de Rocket League al introducir su código de creador en la tienda de objetos.
Independientemente del juego, los jugadores pueden elegir apoyar a un creador distinto en cualquier momento. Una vez seleccionado, el código de creador permanecerá activo 14 días a menos que se introduzca uno nuevo. Después de 14 días consecutivos, el código de creador seleccionado expirará y los jugadores podrán seleccionar el mismo código de creador durante otros 14 días o escoger uno nuevo.
Cómo obtener un código de creador en Fortnite (2020)
Antes de empezar, tened en cuenta que debemos tener los siguientes requisitos:
Tener al menos 13 años de edad. Si somos menores de edad (la edad legal puede variar según nuestro país), necesitaremos el consentimiento de un adulto responsable a nuestro cargo.
Buen nivel de inglés para rellenar los datos de la solicitud fiscal de Epic Games.
Tened al menos 1.000 seguidores en una de las redes sociales principales (YouTube, Twitter, Facebook, Twitch…)
Tener una cuenta de Epic Games creada.
Tras habernos asegurado de que cumplimos estos requisitos, lo que debemos hacer es entrar en este enlace, el cual nos llevará a la sección de la web de Epic Games donde podremos inscribirnos en el sistema de Apoya a un Creador. Aquí, pulsamos la opción "Inscríbete ya".

Una vez dentro, debemos ir rellenando todos los datos que se nos pide. Como os comentamos anteriormente, solo podremos obtener un código de creador si tenemos, al menos, 1.000 seguidores en cualquiera de las redes sociales que nos pide Epic Games.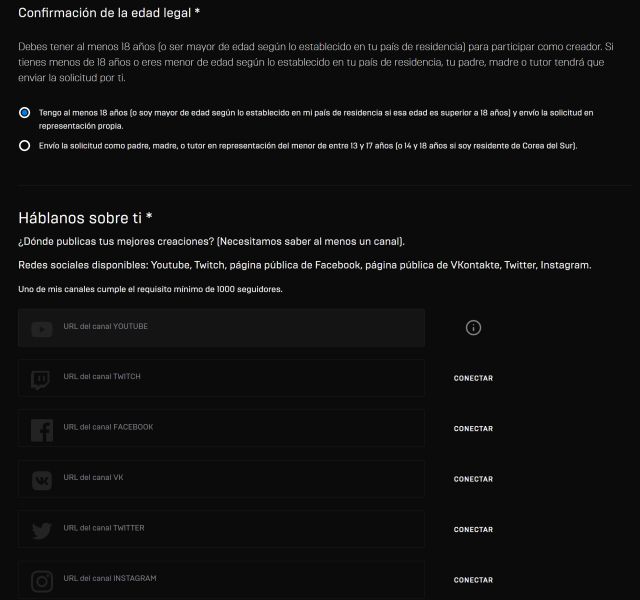 Tras esto, queda el paso más complejo de todos: rellenar el formulario de datos fiscales. Como decimos, es obligatorio para poder obtener el código de creador. En él, tendremos que ir rellenando nuestros datos, siempre diciendo la verdad para no tener ningún problema tanto con la solicitud del código como a la hora de reclamar pagos después. Al completar este paso, obtendremos un código de creador, generado en base al nombre público en nuestra cuenta de Epic Games. Si queremos cambiar nuestro código de creador, tendremos que contactar con el soporte de Epic Games; aquí tenéis los pasos necesarios.
When we have filled it out, we will have to configure our Hyperwallet account (Epic Games creates one for us automatically if we complete the previous step successfully), where we can add a PayPal account or bank account to which to send the money we earn with our code of creator.
Source: Epic Games