Since 2016, the Esports Awards have been enchanting the esports sector with the spectacle of their "Oscar Night", the only global event that rewards the excellence of competitive gaming. The Esports Awards are the showcase of the best that the entire industry has to offer internationally over the course of an entire year, a large and following container that culminates in November with the final awards ceremony in the splendid setting of Arlington Stadium , in Texas. Players, teams, media, events and personalities are the protagonists of the evening, followed by millions of fans: the 2019 edition, for example, had registered 7 million spectators with 3.6 million votes registered on the official website.
The 2020 edition of the Esports Awards began a day earlier with the "Prelude", an evening that anticipated some prizes and inserted within the Expo , an event that has been the glue between the world of esports at 360 ° and the actual award ceremony: panels, interviews, discussions and projects on the world of esports attended by some of the most important international realities followed by thousands of onlookers in live streaming. A double appointment made necessary by the organizers' desire to introduce new categories, as underlined by Michael Ashford, Managing Director of the Esports Awards: "This year we have been able to go beyond our usual offering: we have presented more categories and awards than any previous edition. We believe that every winner has the right to have their own space on the stage: a reason that prompted us to divide the evening in two. We are proud to represent the esports sector with a unique and special product. "
Per la prima volta gli Esports Awards hanno istituito un premio speciale dedicato a coloro che hanno dedicato la loro vita professionale a condurre gli esports sotto i riflettori, che sia con i risultati competitivi o con i loro racconti. Chiamata "Lifetime Achievement", la lista del 2020 include nomi di tutto rispetto e universalmente riconosciuti come la più grande icona dell'esports coreano, Lim "Boxer" Yo-hwan, il fondatore della MLG Mike Sepso, il veterano del settore Craig "Torbull" Levine, il giornalista esports Richard Lewis, vincitore del premio come miglio reporter nel 2019, la leggenda di Street Fighter Daigo Umehara e infine il pioniere Johnathan "Fatal1ty" Wendel. Tutti nomi che hanno contribuito attivamente nel corso degli ultimi 20 anni a far diventare gli esports ciò che sono oggi.
L'edizione 2020 sarà anche ricordata per la sua natura totalmente online. La pandemia da Covid-19 non ha ovviamente risparmiato la cerimonia di premiazione, annullando l'annuale serata di gala dal vivo, in pieno stile cinematografico da Golden Globe, e traducendo il tutto in un formato online. Formato che, tuttavia, non ha tolto nulla alla magia di un evento tanto atteso, anche grazie alla bravura della presentatrice, nonché mattatrice della serata, Eefje "Sjokz" Depoortere, host principale degli eventi di League of Legends e di Counter-Strike nel corso dell'anno. La Depoortere ha sapientemente intrattenuto il pubblico grazie al ritmo incalzante e mai scontato, coadiuvata dagli interventi di personalità del mondo dell'esports, conquistando tra l'altro anche il premio di Esports Host of the Year. Alcuni premi sono stati presentati da nomi provenienti da realtà esterne al gaming competitivo che negli ultimi anni hanno iniziato a interessarsi a esso: da Xavier Woods, star della WWE, al DJ Steve Aoki, fino al calciatore del Tottenham Dele Alli, fresco di nomina come ambasciatore dell'organizzazione degli Excel Esports. Senza dimenticare Nyvi Estephan, presentatrice di eventi esports, Matt Rutledge, co-proprietario e Director of Business Development presso Aftershock Media Group, e la cantante Chrissy Costanza che ha proclamato il vincitore dell'Esports Mobile Player of the Year, assegnato al gioco Freefire.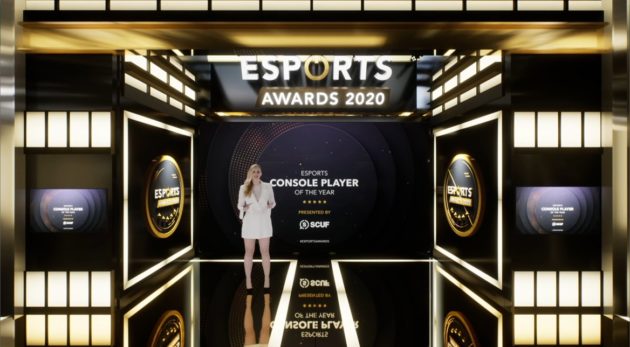 Una sfida nella sfida per gli organizzatori, supportati da brand di caratura mondiale come Lexus, Verizon, Arlington CVB, SCUF, Sizzle Creative, Esports Gear, Esports Stadium Arlington, Koyo Store, RESPAWN, Matrix Keyboards, eBeatz, Touch of Ginger, Grind Gaming, eFuse e LiveCGI. Una sfida vinta, come ha dichiarato il già citato Michael Ashford: "È stata per noi una pietra miliare. Non solo per noi degli Esports Awards ma per l'intera scena competitiva. Abbiamo affrontato numerose sfide e diversi ostacoli che abbiamo cercato di trasformare in opportunità per dimostrare quanto l'industria dell'esports si possa adattare a qualsiasi difficoltà. Abbiamo ottenuto record su ogni dato: più voti, più spettatori e più brand che ci hanno sostenuto per celebrare l'anno degli esports."
5,1 milioni i voti totali espressi in questa quinta edizione che ha visto trionfare su tutti Riot Games (in particolare con League of Legends), i G2 Esports ed il Team Secret. Dopo i premi "tecnici" consegnati nella serata del prelude, come quello di miglior fotografo a Rich Loch, di migliore videografo a Logan Dodson, di coach e di analyst dell'anno, rispettivamente a Lee "Heen" Seung Gon del Team Secret e Chad "Spungj" Burchill di Counter-Strike: GO, nella seconda e conclusiva serata sono stati proclamati i vincitori delle categorie più importanti.
League of Legends è stato il vincitore indiscusso con sei premi, tra diretti e indiretti: il Game of the Year per il secondo anno di fila; il Content Team of The Year consegnato al team di produzione della LEC, il campionato europeo di League of Legends. Clayton "CaptainFlowers" Raines, caster play by play dell'LCS, lega nordamericana si è portato a casa il premio di Caster of the Year, mentre. come già anticipat.o quello di Host of the Year è andato a Eefje "Sjokz" Deporteere. Sempre legato a LoL il vincitore del premio per il miglior esordiente su computer, PC Rookie of the Year, il support dei T1 (team coreano) Ryu "Keria" Min-Seok, così come il premio Esports Creative Piece è andato al video di apertura della stagione competitiva del gioco. Si aggiunge a tutto questo anche la casa madre, Riot Games, vincitrice per il secondo anno consecutivo dell'Esports Publisher of the Year.
Tre premi a testa poi per due delle più importanti organizzazioni al mondo. I G2 Esports si sono portati a casa il premio come Esports Organization of the Year, su cui pesano i due titoli LEC vinti e gli innumerevoli trofei su CS:GO, Rocket League e molti altri titoli, a cui si aggiunge quello di Streamer of the Year, assegnato a Ibai Llanos, ex-caster spagnolo che un anno fa aveva deciso di diventare streamer a tempo pieno entrando a far parte della famiglia dei G2 Esports, ed infine a Carlos "Ocelote" Rodriguez, ex-giocatore professionista di League of Legends e fondatore nonché proprietario dei G2 Esports, come personalità dell'anno. Fa capolino anche Dota2, il MOBA di Valve, grazie alle tre vittorie del Team Secret: oltre il coach dell'anno già menzionato sono arrivati i premi come Esports Team of the Year e per l'Esports PC Player of The Year, nelle mani di Michal "Nisha" Jankowski.
Da sottolineare, poi, la doppia vittoria di Anthony "Shotzzy" Cuevas-Castro dei Dallas Empire, con cui milita nella Call of Duty League, sia nella categoria Esports Console Rookie of the Year che nella Esports Console Player of the Year. Parlando ancora di giocatori İsmailcan "XANTARES" Dörtkardeş ha conquistato il premio per la giocata dell'anno, ottenuta su Counter-Strike:GO, mentre Made Bagas "Zuxxy" Pramudita ha vinto nella categoria Esports Mobile Player of the Year.
Infine un doveroso cenno a coloro che l'esports lo raccontano ogni giorno sulle pagine virtuali dei propri siti o tramite le telecronache in streaming delle partite. Sul profilo informazione il premio come miglior testata è andato a The Esports Observer, da anni sito di riferimento per chiunque voglia rimanere costantemente aggiornato sul settore, soprattutto lato industry; a Emily Rand, da poco esautorata da ESPN a causa dei tagli aziendali proclamati dalla dirigenza, è andato il premio come Esports Journalist of the Year. Ultimo, ma non meno importante, un premio arriva anche nelle mani di Rainbow Six Siege, anche se indirettamente: Michael "KixStar" Stockley, one of the most popular in the competitive Ubisoft title scene, won the Esports Color Caster of the Year award .